is now
Information below is old.
Preface
I use WordPress solutions in a day to day basis. WordPress comes with a very extensible framework that allows you to add comprehensive and powerful functionality to your Blog system. WP-Optimize plugin is written to simplify your daily WordPress works simpler. WP-Optimize is a WordPress 3.8x database cleanup and optimization tool. It doesn't need PhpMyAdmin to optimize your database tables. It allows you to remove post revisions, comments in the spam queue, un-approved comments, and many other junk within few clicks.
Below you will find a list of security suggestions to make your website safer. While we are suggesting 14 tips, if you'd like to read more tips and tricks, there is this great article by CollectiveRay has 101 WordPress tips that every blogger should use.
How this could help you?
Every time you save a new post or pages, WordPress creates a revision of that post or page. If you edit a post 6 times you might have 5 copy of that post as revisions. Imagine if your post or pages are long and big. It's a huge number of bytes that is on your MySQL overhead. Now WP-Optimize allows you to optimize and shrink your posts table by removing not necessary post revisions from the database. As example, if you have a post which is approximately 100KB data and you have 5 revisions of that post, the total space wasted is about 500KB. And if you have 100 posts similar to it, you might have 50MB database space wasted.
Similar to the scenario described above, there might be thousands of spams and un-approved comments in your comments table, WP-Optimize can clean and remove those in a single click
WP-Optimize reports which database tables have overhead and wasted spaces also it allows you to shrink and get rid of those wasted spaces
Features:
MAJOR FEATURES:
Removal of stale post revisions
Removal of stale unapproved and spam comments
Removal of trshed comments
Mobile device friendly, now you can optimize your site on the go
Removal of all trackbacks and pingbacks
Cleaning up auto draft posts
Removal of transient options
Clear out the post trash
Automatic cleanup of all the integrated options (also uses retention if enabled)
Ability to keep selected number of weeks data when cleaning up
Option to add or remove link on wp admin bar.
Enable/Disable weekly schedules of optimization
Apply native WordPress MySql optimize commands on your database tables without phpMyAdmin or any manual query.
Display Database table statistics. Shows how much space can be optimized and how much space has been cleared.
Enabled for Administrators only.
All the potentially dangerous clean up options are marked RED.
When you use this plugin for the first time or just updated to major version, make a backup of your database. It is always the best practice to make a database backup before using this program first time.
Requirements:
Requires PHP 5.1.xx and MySQL 5.1.xxx
It Requires WordPress version 3.x and higher. Tested with 3.8beta
InnoDB Table formats not supported yet thus it would not optimize those table types
Installation:
Unzip the archive into your hard drive.
Upload the folder to your wp-content/plugins folder on your web host.
Login to your dashboard and activate the plugin via activate option.
The menu item is – WP-Optimize ; can be found on your left side bar.
Usage:
Select the WP-Optimize item under WP Admin.
Select the actions you want to perform.
Click on Process button.
Click on Settings to setup some options like what would you like to clean automatically on a period of time.
Screen Shots: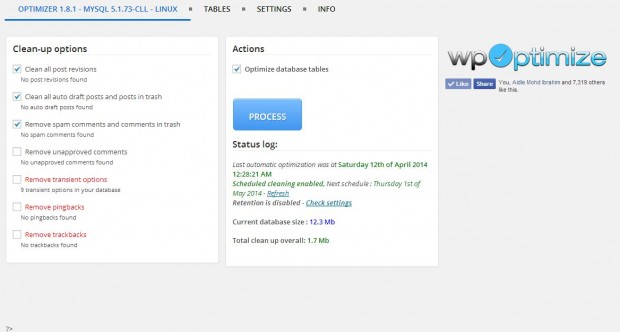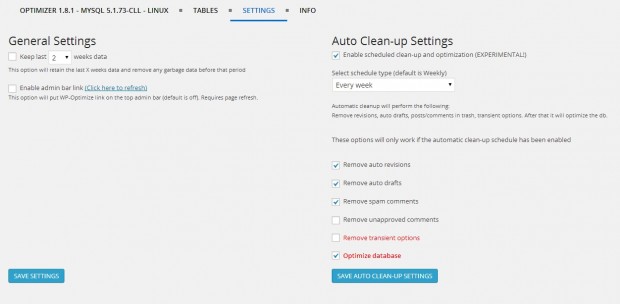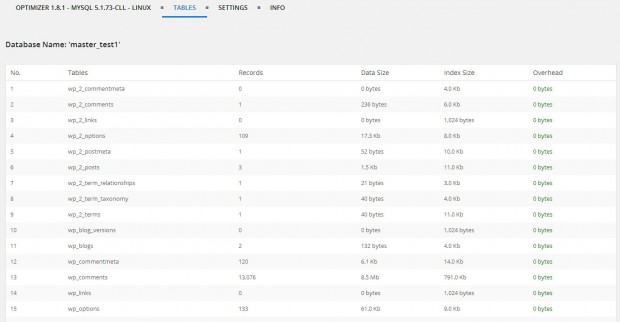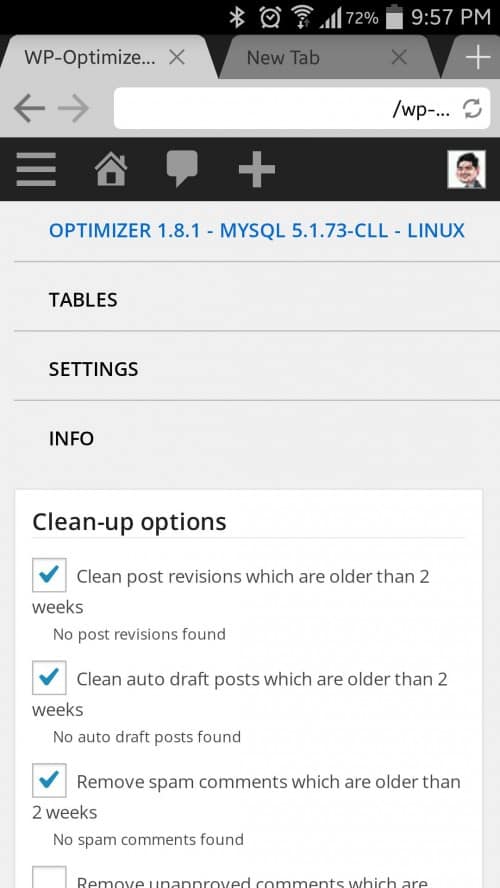 Translators
FAQ
Can you help me restore my database?
No I can't. Please make a backup of your entire database before using this Plugin for the first time. Also backup your database when you upgrade to a MAJOR NEW version (for example – v0.9.8 to 1.5.5 ).
Everytime I clear transient options, it comes back automatically
WordPress automatically creates transient options. It is pretty difficult to completley get rid of it. This is why everytime you clean transient options, you will notice new transient options has been created. My best advice would be clear the transient options on a schedule. So, for example it may create 50 transient option in a week and you clear it weekly so the next 50 transient option comes in. Rather than having 100 transient option, you will have 50 per week.
Optimization does not have any effect on database / it is not optimizing the database
Some of the shared web hosting company does not allow scripts to run OPTIMIZE command via SQL statements. If you are hosted with these web hosts, the optimize action will not be able to optimize your database. Please consult your web hosting company regarding this matter.
I am having error – Warning: mysql_num_rows(): supplied argument is not a valid MySQL result resource …
Upgrade/Update your WordPress to at least 3.5
Upgrade/Update your WP-Optimize plugin
Upgrade your PHP to at least 5.1.xx
Upgrade your MySql to at least MySql 5.1.xx
Related Resources:
This is a primary version of the plugin so any feedback here would be highly appreciated. In addition to that you can post your feature/bugs or suggestions at GitHub.
Did this plugin helped you out?
Would you like to donate an amount or just buy me a coffee?