Rules and guidelines for a properly formatted guest post submission. You should follow the guideline below to ensure a nice and professional looking guest post submission.
Use the form at the bottom of this guide to start initiating the communication for the guest post article.
Sec-0: Terms and Conditions
If you do not follow the formatting rules explained in Sec-2 and Sec-3, your content will be rejected
Guest post topics & categories must align with the existing content of this website
All submitted content needs to be unique, make sure it is not posted anywhere else.
All articles are in English (United States) format.
The minimum word count needs to be 1000 words
You can only include 2 external hyperlinks in the article body
Broken links are detected and will be automatically removed from the article.
Sec-1: Features
All guest posts are published from the main editorial account as if they were published by this site owner
All posts have do-follow links
This site is fully compatible with Google AMP format for the maximum speed of loading articles
The post will be shared with my professional audience consists of 4000+ CxOs, Managers, Tech leaders, Marketing leaders on LinkedIn.
The post will also be shared with my Tech, Marketing, Social Media audience of 130,000+ on my twitter.
The post is fully SEO optimized with OpenGraph metadata
My site speed index is 93% out of 100 in GTMetrix. You will get more exposure on Google, Bing, and DuckDuckGo.
---
Sec-2: Images
The article should contain a featured image (Without Text Overlay). The minimum size is 1920×1080 pixels.
Send the inner article images with the email as an attachment
If you have inner article images, they need to have a minimum of 1000px width
It's a bad idea to copy images from another website. You can use royalty-free images from unsplash.com, pexels.com, pixabay.com
---
Sec-3: Formatting
Sec-3A: To-do
Make sure the article is written in American English content (the English U.S. style)
Use simple formatting for paragraphs
Use smaller paragraphs, split a long paragraph into multiple small paragraphs
Article content should have links inside this website. This means you need to hyperlink other content of this website, from your article content
It's a good practice to check the article content for the ease of readability. Use this free utility for Readability Testing Online.
Check your article content with Grammarly (Chrome Extension) to remove and fix common grammatical errors. This will eliminate unnecessary editing.
You may include an "Author Bio" section at the bottom of the article, should not contain images. Only one hyperlink allowed in the bio.
Sec-3A-1: Example of Document Outline
Here is one sample document you can refer to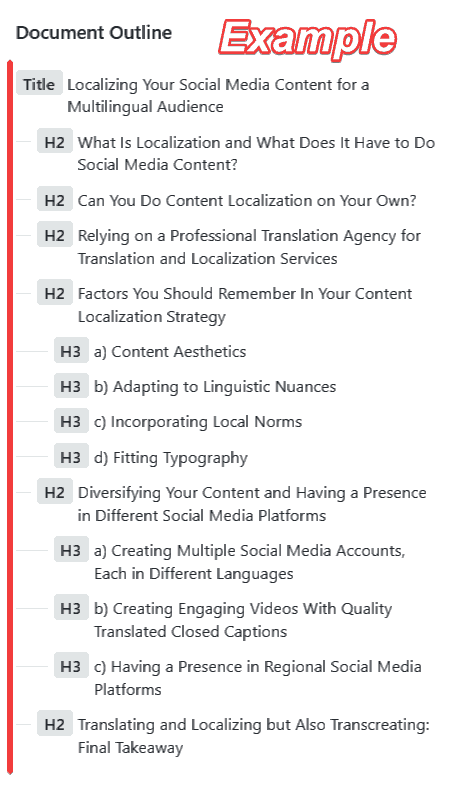 ---
Sec-3B: Do not do these
Bullet points should not be used for Subsection Headings. They can break the formatting of the article
Do not to use custom styles for any font size or color
Do not use Bold and Italics in the paragraphs or headings
Do not add additional line breaks between paragraphs. It is not needed.
It's not allowed to use affiliate links without explicit permission from the site owner.
---
Sec-4: Preparing Your Content to Send
Prepare your content via Google Docs (preferred), or Microsoft Word (.docx format)
Create a new email for each post
Set the Email title as the Post title
Include the Google Doc link or attach the Microsoft Word .docx file.
Attach all the images inside the email that were used in the content
Send email to
Sec-4A: Example of Email Content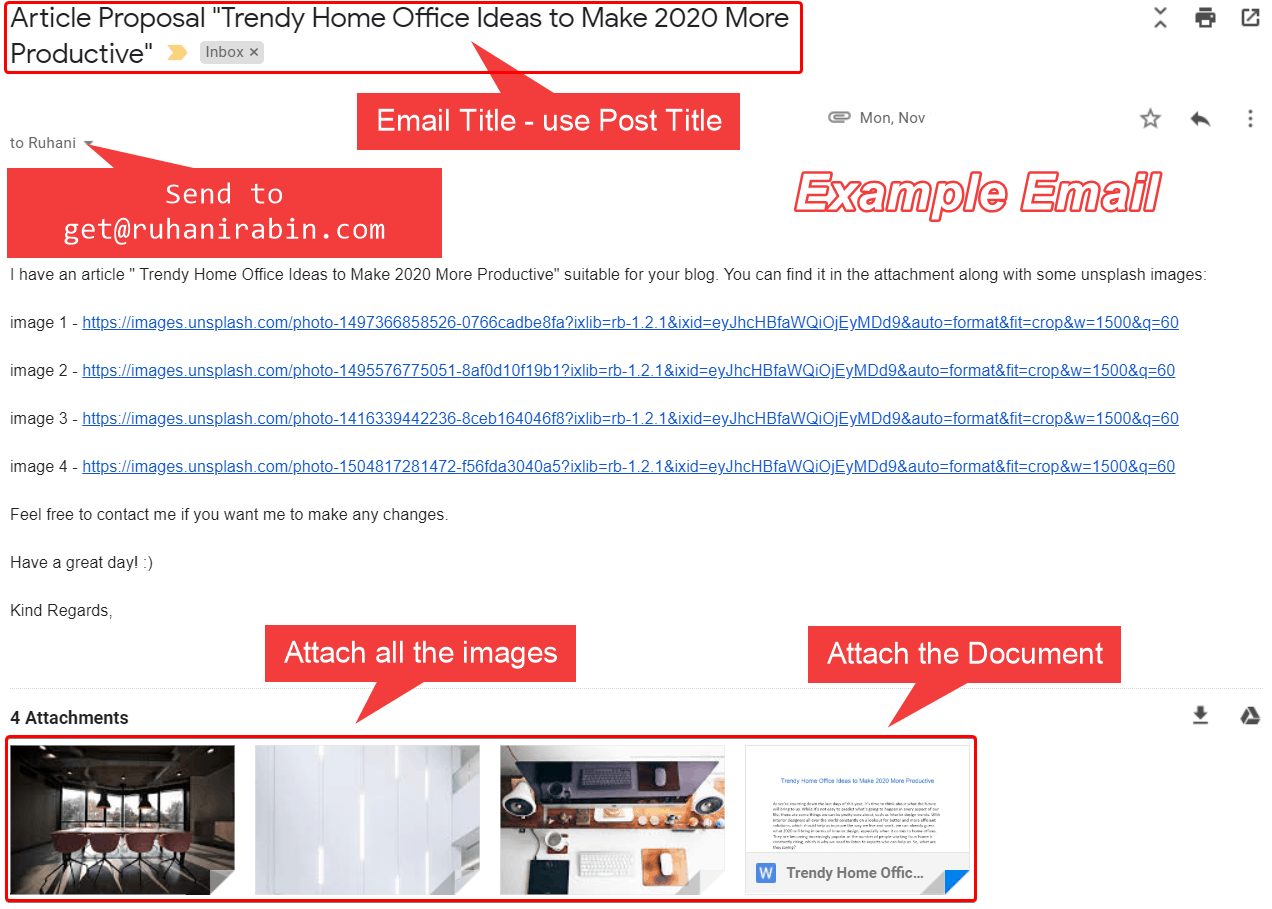 ---
Sec-5: Guest Post Form
---